DIESEL TRACTION GROUP
Welcome to westernchampion.co.uk home of the Diesel Traction Group (DTG) online with details about D1015's mainline railtours plus news, updates and information on all our locomotives.
NEWS and UPDATES
19th January 2016
We are pleased to announce that D1015's first railtours of 2016 are now available for booking through Pathfinders website, please follow links for details of The Maybach Yorky on Sunday 10th April 2016 and the The Western Challenger on Saturday 7th May 2016
17th January 2016
Champion is at present at Washwood Heath, where work has been ongoing over the winter months, to investigate a low oil pressure reading in the A end engine. This work is now almost complete and the engine will be refitted into the loco in the next few weeks. During this period of maintenance a number of small nagging issues were rectified and a general cleaning of the inside of the loco has taken place.

New 2014 DVD now available.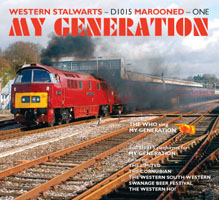 DIESEL TRACTION GROUP © All rights reserved