DIESEL TRACTION GROUP
Welcome to westernchampion.co.uk home of the Diesel Traction Group (DTG) online with details about D1015's mainline railtours plus news, updates and information on all our locomotives.
NEWS and UPDATES
1st December 2013
The DTG 2014 Calendar is now available to order. Full colour archive photos throughout featuring all the DTG locos. More details here
10th November 2013
D1015 Western Champion is currently rewriting history by working regular freight trains for GB Railfreight. The next railtour duty for Champion is Pathfinder's Maybach Meanderer on Saturday 14th December. Provisional 2014 railtour dates for your diaries. See the Western Champion page for more details.
D821 Greyhound has been 'winterised' at Kidderminster and is enjoying a well deserved rest after a busy season on the Severn Valley.
Work continues on D7029 as and when time allows, we hope to have a more detailed report for the New Year.
24th September 2013
Tour report added to the D1015 Railtour Archive for the Vintage Trains 'Cumbrian Explorer Land Cruise'.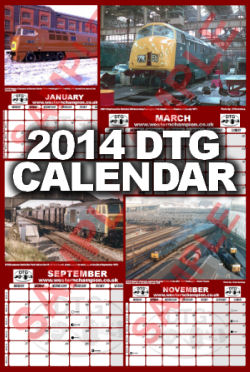 DIESEL TRACTION GROUP © All rights reserved