DIESEL TRACTION GROUP
Welcome to westernchampion.co.uk home of the Diesel Traction Group (DTG) online with details about D1015's mainline railtours plus news, updates and information on all our locomotives.
NEWS and UPDATES
Dont forget to order your DTG 2016 Calendar, now available! Full colour archive photos throughout. More details here
11th August 2015
D1015 and Class 17 D8568 will be appearing at the Severn Valley's Autumn Diesel gala between 01st - 03rd October. Click here for details.

D8568 will also be doing the following turns prior to the gala, including a driver experience - Monday 28th and Tuesday 29th September table A diesel diagram departing Kidderminster 11.45am. It will also the work AM and PM Diesel Footplate Experience (DFE) courses on Wednesday 30th September. Details here'.

06th January 2015
D1015 successfully worked Pathfinder's Canterbury Champion to Canterbury on 13th December, full tour report
here
.
D1015 was taken out of service to allow the engineering team to fully investigate the leaking cylinder head and instigate full repairs. These have now been completed, as of end of July 2015.
New 2014 DVD now available.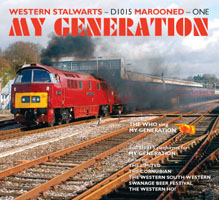 DIESEL TRACTION GROUP © All rights reserved