DIESEL TRACTION GROUP
Welcome to westernchampion.co.uk home of the Diesel Traction Group (DTG) online with details about D1015's mainline railtours plus news, updates and information on all our locomotives.
D1015 ENGINE APPEAL Many will already know that D1015 Western Champion completed the Scarborough Railtour on 'A' Engine only, due to a suspected serious fault with 'B' Engine. Unfortunately, on further inspection, it has been decided that 'B' Engine needs to be replaced before D1015 can commit to any further mainline running.

To ensure that D1015 avoids an early retirement from mainline work the DTG have approached a company in Germany with a view to a replacement being made available within months rather than years.

So what is the cost?

An estimated cost has already been provided and we are looking at around £50,000 to complete the work required.

How do we achieve this?

To enable D1015 to continue on the mainline we are now launching an appeal to raise the money required.

We are grateful for donations, however small, but any amount over £1,000 will automatically buy you Shares in DTG LTD (owners of loco D1015) and allow you to become a part owner in the locomotive. Please note the minimum shareholding is £1,000 (10 Shares of £100).

If you are able to help get D1015 back on the mainline, through a donation or the purchase of shares, then please note the following.

Payment can be made through online banking :-

DTG Trading Ltd,
Bank of Scotland.
Account No. 02089165.
Sort Code 12-24-82.

Please let us know by e-mailing me if you use this method, to

Or by cheque payable to DTG Trading Ltd and sent to the DTG Treasurer at

44 Helen Avenue,
Feltham,
Middlesex,
TW14 9LB.

If you are interested in becoming a shareholder in D1015 then it is also anticipated that there will be a facility to pay in instalments should you so desire.

Please contact us for details at

Due to the above it goes without saying that D1015 will be unavailable for some time regarding future tour commitments. Initially there will be a postponement to a future date for Pathfinder's 'Western Glory', scheduled for 25th February and also our intended involvement with Tornado on the A1 Steam Trust/UK Railtours tour to Penzance on the 29th May will now be taken up by an alternative locomotive.

It is hoped that D1015 will return to mainline action in 2017 but initially this will be down to raising the required funding for the project to go ahead.

Thank you

DVD now available.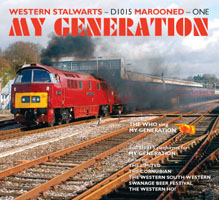 DIESEL TRACTION GROUP © All rights reserved