D1015 Western Champion
Preservation History
The 24 year Story of D1015's return to life
The Early Days
The story begins with Swindon Works Manager! The Western Region, carrying on the GWR tradition, was always proud to be independant and the loss of the final WR hydraulics was clearly painful. Legend has it that the Works Manager wanted a Swindon built example displayed on the turntable there.
D1062 Western Courier had originally been put on display along with Warship D818 Glory. Courier, which was infact a Crewe built example, was bought for preservation by the Western Locomotive Association and moved away. D1068 Western Reliance took D1062's place as it was at Swindon having failed near the works in 1976, Reliance was also mechanically complete and was displayed with 1062 in the headcode. The story goes that the Works Manager wasn't happy with this as both 62 and 68 were Crewe built locos.
At that time both D1005 Western Venturer and D1015 Western Champion were easily to hand, stored together outside 'A' shop with Venturer being the nearest to the turntable. The shunter given the task of moving one of them to replace Reliance, being a railwayman, took the easy option which was 1005. Once on display a person or persons unknown seem to have decided to make a start on tidying up the external appearance of the loco and over the next few weeks patches of light blue paint started to appear on both bodysides of Venturer. The works were not too pleased about this and within the month the loco had been removed from display and was being dismantled in 'A' shop next to D1065 Western Consort, having jumped the queue of Westerns awaiting stripping.
After a few weeks, Western Champion was shunted onto the turntable as the 4th Western to occupy the display position and everyone instructed, in no uncertain terms, that the loco should not be interfered with! Thus, D1015 became the eventual candidate for external cosmetic restoration when in 1978, whilst the DTG were at Swindon with D821 and D7029, we were asked if we would be interested in cosmetically restoring the Western which was on display but was now looking decidedly tatty.
In order to do a proper job we needed the locomotive under cover and so in January 1979 we were put in the old weighshop (now a brewery!). External restoration started and spares were abundant at the time as the scrap yard still had a few Westerns left. To replace the derailment damaged valances we acquired the two corner sections from 'A' end drivers side of D1011 Western Thunderer during December 1978 and the front middle Section from 'A' end of D1058 Western Nobleman in July 1979.
Not content with making it look nice we tried to make it a goer too! Luckily the loco had been withdrawn through accident damage so internally everything was mostly complete. It wasn't long before an engine burst into life and when it was quiet we prepared to move her under her own power. On the first test run in the works complex the transmission would not reverse so we drove it down the line a few hundred yards towards the scrapyard and had to tow it back! As work progressed we began to find more and more problems. We had enquired about buying D1015 but were told it wasn't for sale. Earlier we had considered buying D1022 Western Sentinel but this came to nothing.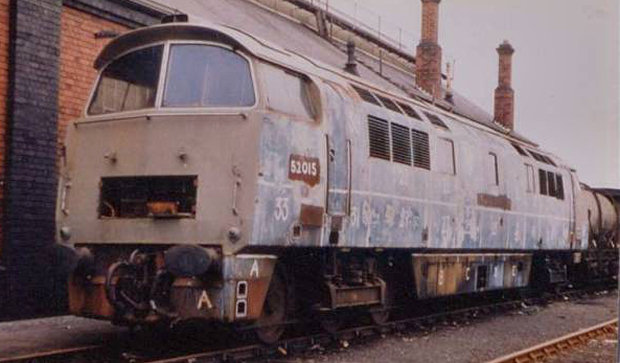 Painting a Thousand is no mean feat! We hit upon the idea that if we 'sectioned' the body sides an individual could pick a square and then they would be responsible for filling, flatting and painting that area. Needless to say it didn't work! Here Western Champion stands outside 'The Brewery' in 1980
Just in time ... (and Sir Peter Parker gets it in the ear!)
During the Summer of 1979 an auditor from Derby Works was going through the books of disposed assets and noticed that one Class 52 Western was still not shown as disposed of and enquired of Swindon as to the reason for this. "Err, well it's a ..... don't know!". He instructed Swindon to get rid of it and D1015 was moved into 'A' shop for stripping with a couple of fitters brought in on overtime to speed up the job. Work started on Friday August 10th 1979.
On the Sunday, two of our members were on a railtour with 50046 'Ajax' to South Wales. A passing comment from a Swindon employee revealed what was happening to Western Champion. Luckily, the train had yet to reach Swindon and so they got off when it arrived and headed for the Works. At first security refused entry but once this hurdle was over they were greeted with D1015 in 'A' shop with men bashing away and ripping out components. Being a scrapper, no care was being taken but, after some persuasion, they agreed to carefully remove items and leave the remaining wiring intact.
Paul Koch and Andy Bennett took the Monday off work and headed for BR Headquarters at 222 Marylebone Road. Paul demanded to see Sir Peter Parker to explain our predicament but of course he wasn't available. Paul was spoken to by a member from the CM & EE office who agreed to get work stopped on the locomotive until a decision was made. Not content to stop there Paul went to meet Sir Peter Parkers usual train from Charlbury at Paddington and pestered the poor bloke all the way across the concourse at Paddington! Considering Sir Peter's position of authority and having this ranting nutter pestering to buy a train from him he took some notes and said he would make enquiries (perhaps he had a soft spot for the old thousand class).
With work stopped we had breathing space. Efforts were made to get enough money to put in a bid and we raised nearly £6,000.00. This was accepted and then we had to find the VAT! The total amount came to £6,125.00 and on January 25th 1980, D1015 Western Champion became the property of the Diesel Traction Group.
With D1015 now DTG property, the group we were able to carry out a more detailed restoration which enabled the locomotive to move under its own power on two engines. The first invite to a special event was for the September 1985 Old Oak Common open day.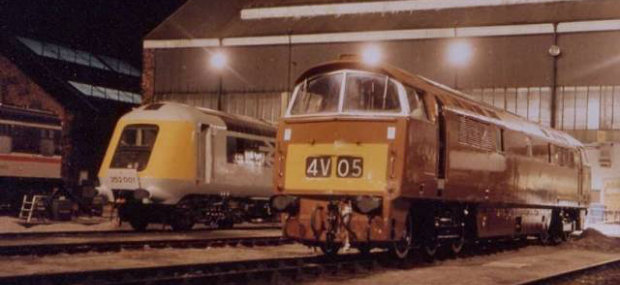 The power and the glory ... but which is which!? Prior to the Old Oak Common Open Day event of September 1985, D1015 stood outside whilst the factory floor was cleaned. It is quite possible that these two machines had met before as both were operating on the Western Region at the same time from 1974 onwards
Unfortunately the event was not without its problems. A bearing fractured in an engine which now meant we had to do an engine change. We had also hoped that the stay at Old Oak would be at least a couple of weeks so we could get a lift to properly inspect the underside. Unfortunately, and unusually, the Railways were on the ball and D1015 was back in Swindon just two days later!
Rumours regarding a suspected fractured axle surfaced and we could only be sure that it was safe by removing the suspect wheelset. The problem was that a trace had showed on the centre wheel set on a Ultrasonic Axle Test (U.A.T). Being the centre wheelset it was near impossible to get the probe onto the axle end because of the bogie frame, the Western Region probes designed especially for the Westerns having long since been disposed of. A spare bogie was obtained from D1031 to stand D1015 on whilst we stripped down the bogie and removed the suspect wheel set. Once this was done a proper test was carried out and the UAT showed the axle to be 100% ok.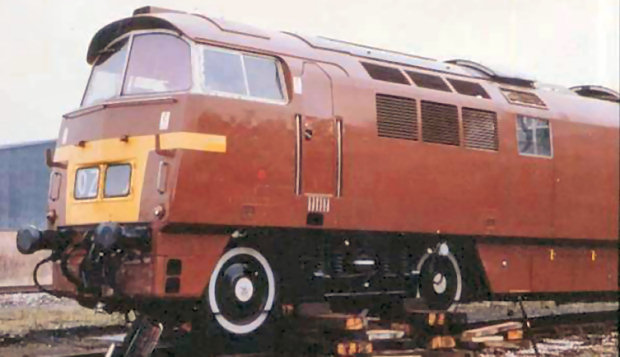 Bogie change DTG style! In order to remove the B end bogie we had to jack and pack the A end to lift it sufficiently so that we didn't risk snapping cardan shafts. This method was also used to gain the height needed at the B end for the underside to clear the bogie intermediate final drive unit. The locomotive was left like this for several weeks until we could arrange a road crane
The Hard Graft Years
With the engine failure after the Old Oak Common Open Day in 1985 it hit home that the only solution was to completely rebuild the locomotive from the wheels up! This involved removing components, one at a time, and taking them to our Birmingham workshop for attention. Without lifting facilities, as the works had now closed, we had to wait for help from the Territorial Army who took heavy items out for us as exercises!
In order to carry out the rewiring it was decided to find the locomotive a better home and this was Old Oak Common. On 1st December 1990, at 03:45, D1015 left Swindon, the first time since 1961 that Swindon was without a Wizzo. It wasn't the last hydraulic to leave. That honour fell to Class 14, D9555, which was in No19 (DMU) shop, ironically the last diesel locomotive built at Swindon for BR way back in October 1965.
At Old Oak Common, positioned on Number one road in the carriage shed we had undercover accommodation and now Western Champion was closer to the working members work moved forward in leaps and bounds.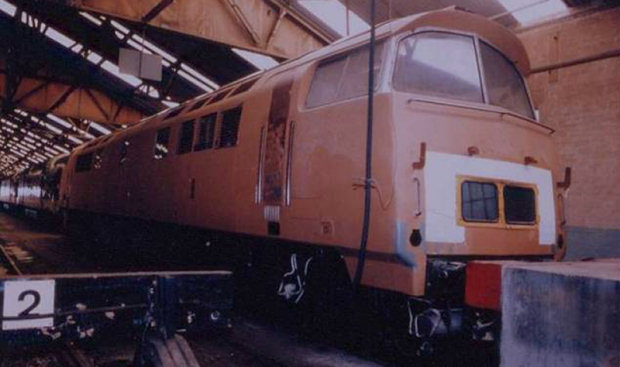 Once under cover external repaints could be carried out with relative ease. Even then the environment we had to work in was somewhat hostile with diesel fumes from HST power cars, cold winds shooting through the shed and the customary leaking roof! Here on No1 road carriage shed at Old Oak Common D1015 slowly turns to Golden Ochre again
Externally 'Champion' became complete and as interest grew in our project we found ourselves being invited to more open days. Laira Open Day in 1991 saw no less than 5 class 52's on the depot, along with our Warship D821 Greyhound, and we even ended up at Brighton and Colchester!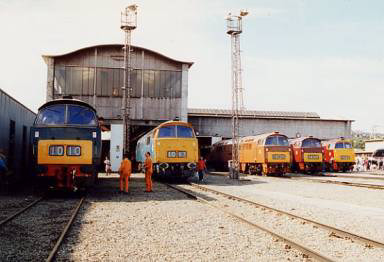 A sight not seen for 15 years! Five Westerns at the Laira Depot open day in 1991. Left to right are D1010, D1013, D1015, D1023 and D1062. Unfortunately D1041 and D1048 were not available at the time.

Also present were Warship D821 and Hymeks D7017 and D7018.

One day all of the seven survivors will stand together. Lets hope its not too long in coming.
We were able to secure a place in the Factory at Old Oak Common, which had been mothballed, enabling us to carry out the engine and bogie changes, replacing those from the locomotive with improved condition components, all done with full approval and prior permission from EWS and the depot staff. We also had to bring Western Champion up to modern standards by fitting new safety systems such as Drivers Vigilance, Speed Sensing equipment and radio telephones.
Above: Two views of the same cab! Above left is the 'B' end cab at Laira in December 1976 after withdrawal and Above right is the same cab being reassembled after a complete rewire. The gauges on the desk have been removed to be recalibrated and checked and the panel below the controllers have been left off for testing purposes. With the cab seat removed the AWS equipment is clearly visible.
Below: Underneath the 'B' end cab floor as it was (left) with accumulated muck the the same view (right) after cleaning and painting. Holes in the bedplate to allow pipe work and cables out also let grime in. The dirt is made up mostly of brake dust, grease and leaf mulch mixed in rain water, left to cure and then baked hard during the Summer of 1976!
The 'floor' seen here is actually the bedplate, the steel platform that sits on top of the main tubes and frames. The cab floor where the crew sit is on a raised platform about 12 inches above this plate. Then positioned under the cab floor is more AWS equipment, isolation cocks for sanders and DSD and the AFT cock. This later additional cock was fitted to enable D1015 to assist a failed train from the rear and most modern locomotives now have this feature.
The whole of the locomotive from end to end was in the same condition as the cab floor (above left). All the floors were lifted to allow cleaning to be carried out. In the boiler compartment the area around the boiler water tank was in the worst condition as it was obviously easier for train staff to 'do' what they needed to 'do' rather than squeeze in between the body and boiler to use the urinal! In fact not long after we had bought D1015 we discovered a fuel leak in the boiler compartment. On lifting the floor section we found the fuel pipe had completely corroded away and the fuel was running through the greasy dirt in a channel where the fuel pipe once was!
With Paul Koch and Steve Vial in attendance at an unbeliveably early hour in the morning, D1015 Western Champion finally burst into life on both engines in early 2000 and we then set about testing and checking all the systems. In order to satisfy the requirements of the main line running procedures we had to complete 1,000 miles of running in and this was achieved on the Severn Valley Railway, usually performing two round trips a day. After the early trial runs on the SVR it became clear that the injectors fitted to the engines to deliver fuel were not the best and so new injector nozzles were purchased from MTU (the former Maybach) at a cost of £180.00 each (and we need 24!).
Just how good looking is a thousand! D1015 Western Champion pauses at a signal on test on the Severn Valley Railway. If you get the chance to, check out just how tall a Western is against other locomotives and rolling stock, it truly is a giant
Ready for the Mainline
The first test run was planned for the 17th December 2001 and involved running light to Worcester. There we were to have picked up a set of stock and a class 37 and ran to Old Oak Common via Cheltenham, Bath Spa, Trowbridge, Newbury and Reading. This was cancelled by Railtrack GW due to concerns about the locomotive possibly failing and causing severe delays to other services. At that time RT GW was under a lot of pressure, especially from the media, and their refusal to allow us to run was frustrating, but understandable.
Considering the above we planned our next test run to avoid the GW as much as possible. The next planned run was for the 14th January 2002 and involved a set of stock and class 37 from Kidderminster to Crewe. There we would inspect the loco and check it over and then run to West Ruislip via Stafford, Birmingham New Street, Banbury and High Wycombe. From West Ruislip D1015 would run light to Old Oak Common and the class 37 and coaches would return to Crewe via Reading. Again RT GW said no, all for the sake of a few miles of little used track from West Ruislip to Old Oak Common.
The best option was to go to another region and so the Sheffield circuit was planned for the 28th of January. RESCO came and inspected D1015 at Kidderminster on the 10th January and passed us fit for operation, we were GO!
On the 27th January members of the group turned up at Kidderminster to prepare D1015. It seemed unreal. After all those years we have just hours to wait and sat in the pub in the evening we barely discussed what was going to happen, it just didn't seem possible.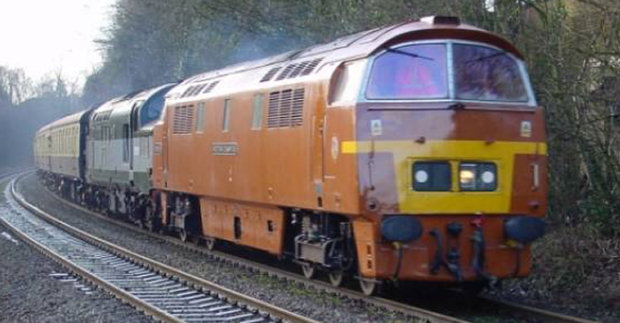 D1015 approaches Stourbridge Junction on 1Z15 with 37197, 28th January 2002
The 28th dawned to heavy rain. Great, just what we needed! Slippery rails for Old Hill! After breakfast we made our way to the station to be greeted by 37197 and a set of stock which had arrived early, very early in fact, D1015 wasn't even running! The plan was to bring the class 37 onto the SVR, run round then ease onto D1015 in the platform. This duly completed, and when all the brake tests were completed, D1015 set back to the dummy signal that would let us onto the main line. Booked away at 10:10 that approached, arrived and went! A late running DMU went in front of us and we followed. TOPS showed us as departing at 10:19. We pulled onto the main line, the Down platform was packed with photographers, someone shouted "Well done".
Once the rear coach had passed the points D1015 was opened up and we were off! At Stourbridge Junction we headed right towards Birmingham via Old Hill. Running steadily behind the DMU, on caution signals, it wasn't until the foot of the bank that D1015's driver opened her up. We stormed up through Old Hill and entered the tunnel on full power. Plunged into darkness the on board fitters had to wait until Rowley Regis to monitor the engines and other systems. Just over the top of the hill and the B engine started to lose oil pressure. As a precaution it was shut down and at the next stop when it was quiet it was restarted. Oil pressure was still low and so it was shut down again and the rest of the run would have to be carried out on one engine.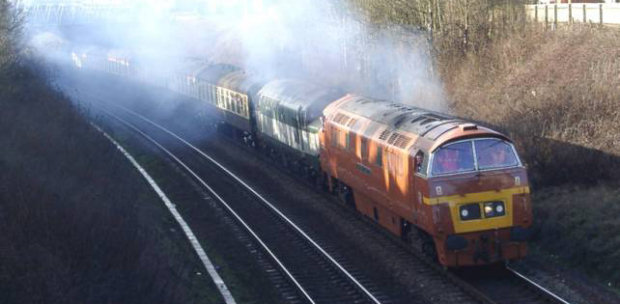 Within a few miles of leaving Kidderminster we were climbing Old Hill bank. At this point there were no signs of 'B' engine being in any distress. Both engines were working normally and pressures and temperatures were all normal. Confidence was high and we were looking forward to a good day out
Booked to avoid Birmingham New Street we actually ran through New Street and sat in the platform. Just two spotters witnessed it. One lad was stood next to D1015 asking "Why is it here?" .. he couldn't believe it. He had a camera around his neck but failed to take the picture!
On the section from Bescot to Water Orton we were held up by a failed class 66. As it happened one of our fitters is an EWS fitter and so he offered to go and get it going! Once the 66 was moving we had the road onto the Derby main line. To claw back time the booked route via Whitacre Junction was altered and we kept main line. Derby was reached just 10 minutes late. We now went back to Derby via Chesterfield, Beighton Junction, Sheffield and Chesterfield!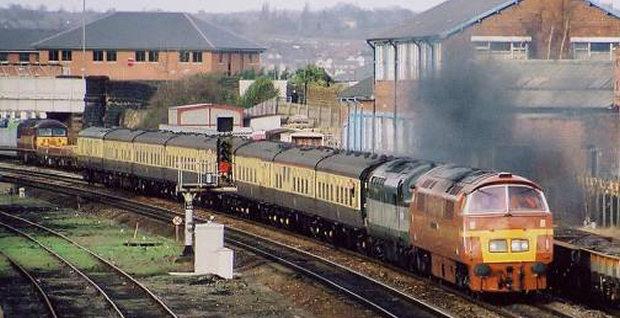 Nearly there ... D1015 and 1Z15 leaving Derby heading for Chesterfield
Back at Derby again we left 3 minutes late, at 14:53. As we headed across from Water Orton towards Bescot the chaps from RESCO approached and said "Can we have a word?" ..... baited breath ..... "Well done lads, you have your certificate".
At Bescot D1015 was uncoupled and at 16:22, running light engine, we headed for Saltley, on our own, no assistance, just D1015 and the road ahead. To see that was probably when it really hit home ... D1015 Western Champion ... Mainline!
The following day D1015 ran light from Saltley to Old Oak Common via Oxford. At Old Oak Common we started to prepare the spare engine to replace the defective one in the locomotive. It took just two weeks to carry out the swap. In order to satisfy ourselves and the consortium we arranged for another test run.
The second run was carried out on the 13th February, luckily not a Friday! Working an Old Oak Common to Bristol empty van train, D1015 hauled a class 47 and around eight empty vans. A one hour late departure due to operational reasons on the mainline saw D1015 head from Kensal carriage siding at 15:20. It was a slow journey to Slough following a service train but from there onwards D1015 was able to work hard. Both engines performed faultlessly.
The booked route from Swindon was to Bristol Parkway direct, however, due to flooding in Chipping Sodbury tunnel we expected to go via Bath. No! Someone, somewhere in Railtrack knew that hydraulics can go through deeper flood water than diesel electrics and so the line was opened for us to go through and inspect! Once through the line was closed behind us again, too deep for modern trains! Despite the 40 minute booked stop at Bristol Parkway being cancelled we arrived at Bristol Temple Meads at 18:47, running 82 minutes late.
D1015 was uncoupled from the train and returned light to Old Oak Common, as 0Z84 19:06 Bristol to Old Oak Common. This time the return run was via Bath Spa and we made our way at a steady 75 mph towards 'home' ready for the first railtour on the 23rd of February.
From February 23rd 2002 we started operating our mainline programme and on the 7th December 2002 we completed our target of operating six charter trains to places such as Bristol, Paignton, Swansea, Worcester, Plymouth and Shrewsbury.
The Diesel Traction Group would like to thank everyone who has supported D1015 Western Champion. We have received numerous e-mails praising the locomotive and thanking us for the work we have done to bring Western Champion to the main line.
We really couldn't have achieved what we have without the continued support from the enthusiast community and railtour passengers, making it possible for Western Champion gain mainline certification and to remain there.
So from US to YOU ..... THANK YOU
---
All of Western Champion's railtour outings are documented in the Railtour Archive and some of the more unusual workings in the Mainline & Other Work page.
DIESEL TRACTION GROUP © All rights reserved