D1015 Western Champion
Railtour Archive 2002-03

001-011

A record of railtours worked by D1015 since gaining mainline certification in 2002.
Click on any thumbnail to enter the tour gallery.
The Western Pathfinder

001

Saturday 23rd February 2002
After a late departure from Paddington of 18 minutes the loco eased gently away from Platform 10 at 12:27 as cameras clicked and videos rolled. History was made! Running Slow line to Reading then Mainline to Bristol we passed Swindon just 5 minutes late and the arrival at Bristol Temple Meads was fifty seconds early and we had experienced 90 mph running at Box.
Both Bristol and Gloucester departure times were exactly on time and the storm Up Sapperton Bank saw every window on the train that could be opened being so. Signal checks at Didcot and Reading meant a 10 minute late arrival at Paddington but that didn't dampen any spirits. For many in the group though it really didn't sink in until a few days later that yes Western Champion really had done it! Just over 270 miles of main line running had gone without a single hitch.
The groups engineers sat back in their seats and enjoyed the ride just as the 550 plus did on the train. Occasional running checks revealed all was in order and D1015 literally sang the whole day. The loco retired to Old Oak Common to cool down as the group members headed for other refreshments!
The Western Sunrise

002

Saturday 20th April 2002
There was nothing to do after the February trip except wait! Eventually what seemed like forever came and we starting preparing the loco for tour two. The empty stock arrived at Kensal Rise at 06:50 which meant an early start for the engineers. It takes around 60 minutes to prepare the loco as we have to preheat the engines first before starting.
Another late departure from Paddington, although this time just two minutes, and we were off heading for Reading again. From Reading we headed Westwards, leaning left into the curve for Reading West, the loco gleamed with its matching Maroon livery rake of coaches. From Westbury we were followed by a cameraman in a light aircraft and along the sea wall from Powderham to Teignmouth and beyond vantage points along the route were taken up by camera men. There was even a boat or two in the estuary gaining those long distance shots!
The footpath at Goodrington afforded excellent views of the loco and stock as they awaited the return 18.00 departure and we stormed along the seawall again heading for the Capital. This time we managed over 400 miles although as we ran through Hayes the loco developed a fault with a transmission. The B transmission keep coming out of direction momentarily before lurching back into full power. Investigations later on shed revealed a dirty switch with a 'dead' spot as the cause and as a precaution both direction switches were changed for new ones.
The Western Druid

003

Saturday 15th June 2002
Many people thought tour two was the best they could get and fully expected tour three to Swansea to be a bit of an anti-climax. However, for they were proved wrong, but for different reasons. The Paignton trip was all about returning to places that most people wanted to go, along the sea wall and Paignton. The trip to Swansea was different.
The outward involved a lot of high speed running, getting out of the way of those 'modern' flying banana's. The Severn Tunnel thrash was incredible, I doubt whether there was one single window closed! As our driver hit the 'sump' of the tunnel bore he gave a sharp blast on the horn and full power was applied... we were away!
Two hours went quickly at Swansea and we returned via the Vale of Glamorgan, Bath Spa and Newbury. Around Savernake, at milepost 70, the loco achieved 1000 miles of passenger train haulage on the main line. From Reading we were directed via the main line and Paddington was reached in just over 30 minutes, but 16 minutes early. The driver later told us he was aiming for 27 minutes but a signal check at Airport Junction put paid to that. Still, there's always tour 4!
The Western Noon

004

Saturday 17th August 2002
This tour took WESTERN CHAMPION to Worcester via Oxford and back to Paddington via Birmingham Snow Hill. A 'Gentleman's time' departure saw D1015 leaving Paddington at 10:54 hauling 11 blue & grey liveried mark I coaches. Travelling via the Cotswold line several locations such as Evesham with its marina and Norton Junction with its semaphore signals were popular places for photographers and we arrived at Worcester within a few minutes of our booked 13:32 arrival.
After a three hour plus break we headed for Birmingham via Kidderminster, where a number of staff from the Severn Valley Railway, waved as we stormed through, horns blaring. Following a local service train Up Old Hill bank meant a slower that expected climb but still the loco breasted the top of the bank in fine style. For those of you that are unaware it was this bank which caused the premature failure of B engine on our test run back in February 2002.
The first thousand through Snow Hill since around 1965 was watched by a small number of railway staff and then we headed out past Tyseley where a steam loco shunting in the yard gave us a whistle.
Approaching Leamington Spa it became noticeable by our on-board engineer that something was amiss with B engine as it was low on power. A check outside saw thick black smoke coming from the exhaust and it was realised that the turbo blower sitting in the 'vee' of B engine had failed. The B engine was shut down and we headed for the Capital on A engine only. Despite this we still managed to raise a respectable 76 mph on the way home, considering that the A engine was now pulling 11 coaches and half a dead loco!
A engine worked incredibly hard for the remainder of the tour and approaching Paddington it was discovered that a cooling fan motor had blown an oil seal and Serck oil was sprayed around the cooler group. Considering the air temperature that evening was around 30 degrees and pulling hard for over two hours the cooling fans were working constantly and the operating pressure of around 1,800 PSI obviously proved too much for our 40 year old locomotive. Despite this we arrived at Paddington 10 minutes early!
Over the following two days the broken turbo blower was changed and investigations found that the bottom bearings had broken up. On stripping the bottom of the blower we found that a oil line had become partially blocked by 'carbonated oil'. This is what happens to old oil after a long period out of use, it turns literally to carbon which is very, very hard. Having been laid dormant in the bottom of a small sump in the blower the now hard working blower had forced a small piece of the solid carbon to break off and lodge in the oil nozzle. The net result was oil starvation to the roller bearing which, when the blower is working flat out, spins around at near 18,000 rpm! The inevitable was the bearings overheated very quickly and broke up. The blown fan motor was also repaired and the opportunity to change all 24 brake blocks was taken, the loco having run around 3000 miles since the old ones had been fitted.
The Western Pilgrim

005

Saturday 26th October 2002
This tour originated at Crewe with WESTERN CHAMPION working from Birmingham New Street to Plymouth Friary and from Plymouth North Road to Bristol Temple Meads. During the day the loco performed exceptionally well with sustained speeds of 80 to 90 mph West of Westbury in both directions. The return run was timed at 2hrs and 7 minutes for the 127 miles from Plymouth to Bristol and timed for a Class 47 loco with a maximum speed of 95 mph (D1015's maximum speed is 90 mph, as in BR days). We actually ran the distance in 122 minutes, leaving Plymouth late and arriving at Bristol early!. From Bristol D1015 was sent off light engine home to Old Oak Common and the tour continued behind 47773.
During the return light engine movement D1015 was called to assist a failed High Speed Train at Dauntsey, near Chippenham, that was slipping to a stand on greasy leaf covered rails. D1015 reversed onto the train and coupled up. At 20:37 D1015 moved off towing the train, which had been stuck there for nearly 2 hours, and in doing so worked the first diesel hydraulic passenger service train since Tuesday 22nd February 1977 when D1013 Western Ranger hauled 1A49, the 22:10 Penzance to Paddington sleeper service as far as Plymouth. Luckily a passenger off the railtour managed to get to Swindon to capture the train arriving at 20:48. There the train was terminated and D1015 continued to Old Oak Common.
Ironically this wasn't the only distress flair sent out for Thunderbird 1015! A steam hauled railtour had become stuck West of Taunton having run out of fire! Unfortunately a driver trained on D1015 for the section Bristol to Birmingham for that tour could not be provided and so they had to wait for a rescue engine from Eastleigh!
Nick Edwards' account of the HST rescue is well worth a read in the Western Memories part of the D1015 pages. See the article click here
The Western Sunset

006

Saturday 7th December 2002
This, the final tour of the first years programme, was just as important to as tour one. For the first time Western Champion was used to bring over the empty coaches from Bounds Green, the first Western on the Eastern since 12th February 1977!
Departure was from platform 10 at 08:45 and we reached our first pathing stop at South Ruislip 24 minutes later. Once the Chiltern service train had passed we eased away but unforunately it remained in our way throughout most of the journey! By the time Princes Risbourough was reached we had achieved a maximum of just 66 mph. By Banbury we were 16 minutes late and we waited a further 10 minutes again for another Chiltern service and a Vigin Voyager to pass before getting our signal. Once the trains had started to pull clear of us we could enjoy a little thrash with 89 mph being achieved just before Leamington Spa. Because of the late running we missed the Leamington pathing stop which put us still 16 minutes late at Hatton. Birmingham New Street was reached 12 minutes late at 12:03.
A 2½ hour break here allowed participents to take a liquid lunch whilst Western Champion and stock ran to Bescot Yard for servicing. Our booked departure time from New Street was 14:25 but we were delayed leaving Bescot awaiting a path between diverted West Coast Main Line services. Passengers board quickly and we left 10 minutes late.
The route we now took to Hereford was through Woverhampton, Wellington and Craven Arms, we managed a top speed along this section of 89 mph at Ludlow. For those dining dinner was served on leaving Hereford as we stormed Southwards towards Newport. Turning left onto the Main Line we then headed for Gloucester and Swindon via Sapperton Bank.
Didcot was reached 4 minutes late but a full thrash departure saw sustained high speed running with 91 mph touched at Pangbourne. Slowed at Tilehurst to go up the relief line Reading was reached just 16 minutes after leaving Didcot! From Reading we remained on the Relief until Slough then it was Main Line to Paddington, arriving 11 minutes early.
All in all a very successful first year and, despite the turbo blower fault on tour 4, we managed to acheived what we set out to do. If you've been on all the tours your mileage with Western Champion should read around 2147 miles although with other work included the locomotive has itself reached 3672¼ miles for 2002. Here's to 2003!
One of our drivers was Andy Floyd who wrote an article 'Surprise Surprised' about his experiences learning to drive D1015. See the article by clicking here.
The Royal Duchy

007

Saturday 1st February 2003
The Royal Duchy saw D1015 sharing haulage duties on a railtour for the first time, in this case with 5029 Nunney Castle. The tour ran from Slough to Penzance with Champion providing power between Slough and Bristol the piloting the Castle between Bristol and Exeter. The Castle ran Plymouth to Penzance alone, with D1015 rejoining the train at Plymouth for the return leg.
The complete list of moves is as follows:

5Z52 19:22 Old Oak Common - Southall Yard (31st of January)
5Z29 04:15 Southall Yard - Slough
1Z29 04:45 Slough - Bristol Temple Meads
1Z29 07:15 Bristol Temple Meads - Exeter Riverside Yard piloting 5029 Nunney Castle
5Z52 08:48 Exeter Riverside Yard - Plymouth North Road
1Z52 18:54 Plymouth North Road - Bristol Temple Meads
5Z52 21:45 Bristol Temple Meads - Bristol Parkway
0Z52 ---:--- Light engine Bristol Parkway - Bristol Barton Hill
Quite a few scenes from the past were recreated on this tour starting with Champion stood at a snowy Slough in the early hours ready to head West towards Bristol. On the 21st January 1963, D1015 entered service for British Railways in the snow and some 40 years later nothing has changed! 20 minutes and 15 miles later the snow had gone and rain filled the air.
Once uncoupled from the front of the steam loco, D1015 ran to the back of the train in Riverside Yard to collect the train heating generator coach, a stark contrast to grid locked London we had departed just four hours previously. At Plymouth North Road some shunting occured with D1015 running round the generator coach and through the centre road which was often used to keep Westerns ready for engine changes on trains from the North and the Capital heading into Cornwall. When was the last time a Western stood here?
The Western Quarryman

008

Saturday 15th March 2003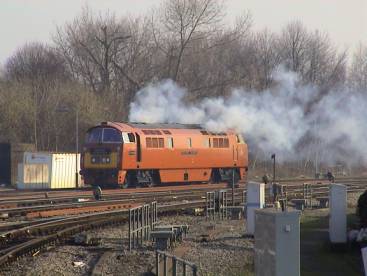 Saturday morning broke cold, crisp but clear with sunshine forecast for most of the day. Running as 1Z46 (due to the incoming form of traction, Peak class 46, 46035) the train arrived at Bristol around 10 minutes late and further time was lost waiting for D1015 to get signalled into the station.

Eventually, after the class 46 had gone on shed, D1015 was allowed off Barton Hill and moved through the station to the West end to couple. The train was formed of 11 Mark I coaches, a mark II coach and a train heating generator van bring a total all up weight of 467 tons, the heaviest passenger train for Western Champion to date .. and every seat was full!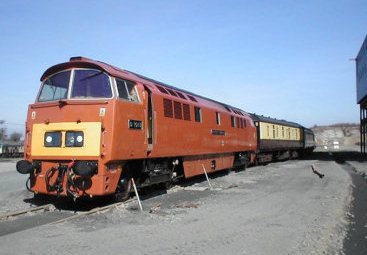 After running around at Exeter St Davids we headed for Okehampton on the former Southern main line from Exeter to Plymouth. From Okehampton the train ran empty to Meldon Quarry, the end of the line, to allow D1015 to run around. Unfortunately it was not possible to take passengers through to Merehead after concerns were raised by the Health and Safety 'Police' regarding the extremely dangerous practise of having ...... passengers on trains in sidings!

So everyone alighted the train ran the short distance, around two miles, to Meldon Quarry for the run round (right).
Next up was Westbury via Exeter St. David's, the steep 1 in 37 climb to Exeter Central and both Yeovil stations. After a brief pause at St. Davids we were given the green with 'UW' - Up Waterloo. D1015 dug her heels in and we were off, full power, taking no prisoners! As we emerged from the tunnel near to Central station a crescent of photographers had formed on the bridge and embankment.
Blasting into Central the power remained on Full as D1015 continued to heave its 13 coach train up the hill behind it. The station canopy at Central captured the roar of exhausts along its entire length and passengers on the platform were treated to a Western in full cry! At Yeovil Junction were turned left into Pen Mill for a photo stop and the opportunity to replenish the beer supplies. Although chilly the sunshine continued giving almost perfect photo opportunities to everyone on the train and lineside.
At Westbury D1015 ran round in a loop just West of the station and headed for Merehead Quarry, the stone terminal of Mendip Rail, where the final run round of the day took place and then it was off into the night towards Bristol Temple Meads. A late departure from Merehead left a freight train held on the Frome line which meant we couldn't go along the Frome loop but there will always be a next time!
After a last dash along the Great Western main line from Bath to Bristol we pulled into Temple Meads around 35 minutes late and handed over to 46035. D1015 retired to Barton Hill to await the move back home to Old Oak Common. This move occurred on the 19th March in the Wednesdays Only empty van train from Barton Hill to Old Oak Common - which conveyed no vans, only 67002 hauling 47758 and D1015!
Before this tour ran a few people had said the itinerary didn't appear to be all that interesting. After the thrash Up Central bank and along the Southern towards Westbury coupled with the dash back to Bristol most people had changed their minds. It turned out to be a rather rewarding day.
A few more photos from the day, click any thumbnail to enter the gallery.
Mendip Rail/Foster Yeoman/Hanson charter

009

Bank Holiday Monday 5th May 2003
This private charter operated as the annual MendipRail staff outing. Each Year Mendip Rail treat their staff to a day out as a thank you for all their efforts during the previous year and this years bash was to destinations along the North Wales coastline to Llandudno Junction. Foster Yeoman, now part of MendipRail, often had Westerns hauling their heavy stone trains from Merehead to destinations as far as Luton, Botley, Wootton Bassett, Yate and Oxford during the 1970's. Indeed the first Foster Yeoman stone train was hauled by D1035 Western Yeoman and the 1000th stone train was hauled by D1000 Western Enterprise. With D1015 Western Champion being available to operate the charter it was a golden opportunity for Foster Yeoman staff and friends to remake an old acquaintance!
Amongst the highlights planned for this charter was the first Western hauled train Up the steep Lickey Incline since February 12th 1977 and the first Western, we believe, to work Westward from Chester along the North Wales coast. However, the 75 mph restriction imposed because D1015 is not yet fully TPWS fitted meant it was impossible to get a path from Bristol to Birmingham and so we ran along the more historic Welsh Marches via Hereford and Shrewsbury, old Western haunts of the early 1960's.
The charter train was our longest yet in terms of distance with some 530 miles ahead of us. D1015's 840 gallon tank was more than enough to cope with this (based on 1¼ gallons per mile average) provided there was no lengthy delays or diversions. For insurance arrangements were made for a road tanker to meet the train a Penmanmwr to top up the fuel. However, the best laid plans etc. etc!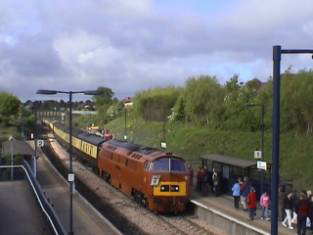 The weather forecast promised some showers during the day and a decidedly cool breeze and Bristol Filton Abbey Wood Station (left) at 08:35 in the morning suggested the weatherman would be right. But as we headed further North during the day the weather improved and we were bathed in almost constant sunshine.

This was certainly a good sign for all of the 500+ passengers on board. As the train was made up mostly of families with children it resembled an ADEX from the 1970's, holiday makers going for a day trip to the seaside. Except this time they were travelling to North Wales for the sunshine rather than South Devon.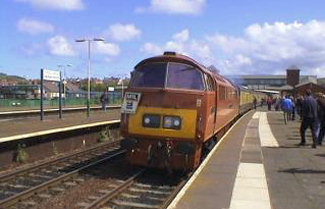 The first set down point was Chester for a 5 hour break in the historic city followed by Rhyl and then Llandudno Junction itself (right).

Passengers from our train were taken to Llandudno by bus for the sea or to visit a vintage transport rally or to just walk over the bridge to Conwy. D1015 and its train went to Penmanmwr Quarry for servicing but unfortunately no refuelling facilities were available. The suggested road tanker supply could not be made and so on the return journey it was recommended that we went to Chester depot for fuel.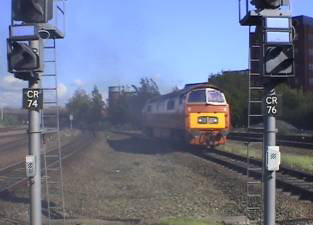 There was a booked 30 minute stop at Chester but this would eventually rise to near 60 minutes as D1015 made its way from the train (left) onto the shed for a drink.

Some 250 gallons, lots of glass tumblers and several books of stamps later Western Champion returned to the train and we left Chester around 30 minutes late.

This did not cause too much concern as we were originally booked to follow an all stations stopping train from Crewe to Hereford. As this train had long gone by Shrewsbury we were back on time!
Another Champion day out! The only disappointment perhaps the restriction which meant D1015 couldn't show its full potential of consistent 90 mph running. Our current plans mean that this trip should be the last time we operate under this speed restriction. The fitting of TPWS is now fully under way, ready for our next charter train on 27th July, hauling the prestigious Orient Express Pullman.
A few more photos from the day, click any thumbnail to enter the gallery.
The Bournemouth Belle

010

Sunday 27th July 2003
This tour started at London Victoria with 34045 (34027) Ottery St. Mary (Taw Valley) hauling the train to Salisbury. A very heavy train forced some slipping on the way to Clapham Junction and just outside there we slipped to a stand. Some 30 minutes later an EWS diesel (59204) came and pushed us over the top and we were soon speeding southwards again.
D1015 was renamed at Salisbury 'Sir Misha Black' by his son Oliver. Sir Misha being the designer of the Western class locomotives and recent revelations by author and railway historian Adrian Curtis has shown he had a considerable input into the locomotive design. Livery suggestions recommended by Sir Misha included red buffer beams and a cast metal 'lion & wheel' crest on the cab sides, so it is this livery that we have repainted D1015 in.
Nick Edwards' article "Champion The Wonder Horse to the Rescue" (Part 2) covers this tour and also educating Oliver in the art of bellowing, click here to see the article.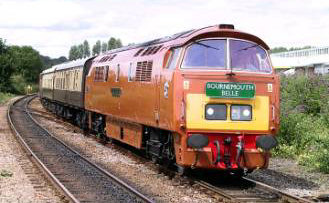 On departing Salisbury we headed for Bournemouth via Eastleigh and Southampton. Having sat under the station canopy for some time at Salisbury awaiting a replacement guard D1015's exhaust fumes set off the station fire protection system and shortly after we had left all the passengers at Salisbury had to evacuate the station!

Thanks to Andrew Cameron we have various pictures of the train throughout the day, D1015 is seen on the outward Bournemouth Belle at Romsey (left).
By the time we arrived at Bournemouth we were near railtour standard time but this did not seem to dampen the enthusiasm of those on board. After running around D1015 headed for Eastleigh where the train terminated and went to the sidings for servicing.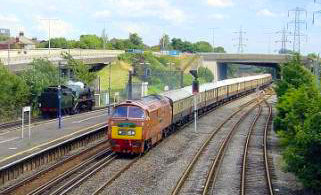 At Millbrook Andrew was lucky enough to be in the right place at the right time and captured 34045 pass Sir Misha Black as it headed for Eastleigh for servicing (right).

From Eastleigh D1015 hauled the heavy train with 34045 on the rear to Poole, stopping on the way at Bournemouth to pick up those passengers that had chosen to spend the day at the seaside.

From Poole D1015 had the task of banking the train to Bournemouth up the steep bank.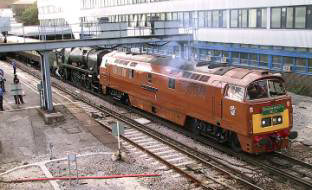 The plan was to have Sir Misha follow the train to Victoria and take the empty coaches to Stewarts Lane where it would remain overnight, going light to Old Oak Common in the morning.

However, at Southampton, it was realised 34045 had used considerably more water than it should have, raising concerns that it might not have enough to make Victoria alone. The decision was made to put D1015 on top as insurance, rather than risk a main line failure. The train is seen at Southampton just after D1015 had coupled (left).
This meant that D1015 would work through to Victoria, the first visit of a member of the class to that London terminus. In fact the previous hydraulic to grace Victoria prior to the 27th July 2003 was Warship D821 (which is also part of the Diesel Traction Group collection) when working Emperor Hiro Hito's Royal train in October 1971!
From Victoria D1015 went home to Old Oak Common, running the scenic route via Kensington, Acton, Ealing and Greenford! This was D1015's heaviest passenger train to date, some 700 tons on the drawbar and again performance was exemplary. Only two weeks to wait until the next tour and D1015 would be off to its most popular requested destination, Penzance.
A few more photos from the day, click any thumbnail to enter the gallery.
The Royal Duchy (Past-Time Rail)

011

Saturday 9th August 2003
Paddington - Slough - Reading - Newbury - Westbury - Exeter - Plymouth - Penzance
A selection of photos from Western Champion's triumphant return to Penzance, the most popular requested destination for mainline railtours with D1015 by quite a way.
DIESEL TRACTION GROUP © All rights reserved