D1015 Western Champion
Railtour Archive 2013-14

051-

Click on any thumbnail to enter the tour gallery.
Fish 'n' Chip Test Run (Vintage Trains)

051

Thursday 22nd August 2013
Tyseley - Coleshill - Leicester - Burton - Coleshill - Tyseley
This was essentially a Test Run for the newly overhauled locomotive. Our first outing with Vintage Trains who had agreed to facilitate this passenger carrying Test Run and whose popularity outstripped everyone's expectations. An earlier cable theft had threatened, a delay, a change of route to Sheffield and a reversal of the original route before a well loaded train left Tyseley pretty much on time to follow the advertised route. Apart from Tyseley there was one pick up and set down at Coleshill, this was reached early and the extended time in the platform must have given the signallers something of a headache.
The format was a simple circular route allowing the engineers time to assess the locomotive and many of the passengers time to enjoy a Fish n' Chip supper. Some spirited running was achieved North of Leicester and in general D1015 performed well apart from a couple of engine shutdowns approaching the end of the journey. The problems experienced were identified and have subsequently rectified which only goes to prove the worth of the exercise.
The Western Wessexman (Pathfinder Tours)

052

Saturday 7th September 2013
Bescot - Worcester - Bristol - Parkway - Westbury - WEYMOUTH -
Basingstoke - Oxford - Evesham - Worcester - Bescot
The moment of truth, D1015's first proper and long awaited railtour outing in over 3 years. The day started at Leicester with Class 67 haulage as far as Bescot where the 'Star of the Show' was ready and waiting to take over. For those on Tame Bridge Parkway Station it was fortunate that they could see the locomotive pull forward and reverse back towards the train as the station announcements first declared the train 33 minutes late, then 36 minutes, then ominously just "delayed"! D1015 rolled in on time.
It was a fairly leisurely start for most of the punters but DTG Engineer Steve Wainwright had been up for hours prepping and pre heating the locomotive, a part of the job that few travellers even think about but without it the day would finish before it had even started. After Tame Bridge the train picked up at Stourbridge Junction, Kidderminster, Worcester, Cheltenham and Bristol Parkway before heading off through Bath and onto the rural and scenic route to Weymouth. A pathing stop was had at Westbury and many took the opportunity to take a few photographs of the loco. New engineering understudy, Al Kennett, looked at home in his new role in the back cab. We also had with us a couple of the FGW Apprentices who had spent a lot of time on the loco during its stay at Old Oak Common over the past few months, hopefully they have got a taste for fine engineering and their interest in D1015 will continue.
Weymouth was reached close to time and a break of just over two hours, in fine weather, was enjoyed. Plenty of time for a pint or two, a relaxing lunch or just a bit of early autumn sightseeing. Meanwhile the team of Williams and Walton had taken over as the DTG's engineering support team on the loco. Departure was at 15.36 and the loco set off for the arduous ascent of Bincombe Bank. At Dorchester the train deviated from it's outward route and took the mainline route via Bournemouth and Southampton as far as Basingstoke where it took the Reading Line. Reading however was avoided and we headed towards Didcot for a crew change and say goodbye to a few of our fellow passengers.
One of the highlights was a spirited run through Oxford followed by the newly redoubled sections on the Cotswold line. At Evesham we were held for a preceding train to clear Norton Junction and after being pretty much to time all day we then were 20 minutes down for the remainder. The important thing is that the day was a great success, hugely enjoyable and above all 'The Mule' was back!
The Cumbrian Explorer Land Cruise (Vintage)

053

Saturday 21st September 2013
Tyseley - New Street - Wolverhampton - Crewe -S&C - CARLISLE
Cumbrian Coast - Carnforth - Crewe - Wolverhampton - New Street - Tyseley
This was D1015's first full day tour with Vintage Trains and it started well with the train departing from Tyseley's Warwick Road Platform bang on time. The nine coach load was supplemented with Tyseley's Class 47 in the consist, which served the dual purpose of heating the train and giving D1015 a bit more of a challenge over the Northern Hills.
The pre tour preparations had this time fallen to Messrs Clegg and Vial and it was this engineering team who stayed with the loco all the way to Carlisle. The outward journey picked up at New Street, Wolverhampton and Crewe before leaving the West Coast mainline at Farington Junction and taking the line up through Blackburn and Clitheroe. The generous timings allowed a 30 minute stop just short of Hellifield awaiting a local passenger train to pass but this was put to good use by the locomotive crews as the support coach provided tea all round.
A brief stop at Hellifield gave the passengers time to take a few photographs of the loco and then it was off on the first highlight of the schedule, the world famous Settle & Carlisle line. The Cumbrian weather was on form with low cloud predominating but it did little to detract from the splendour of the route and the vistas to be seen. Western Champion ate up the miles with little effort so much so that Carlisle was reached a good 10 minutes early.
The passengers enjoyed a generous stay in Carlisle of over 3 hours, plenty of time for a leisurely lunch and an ample around the shops. Departure was on time and the DTG crew on the loco was a reprise of the Weymouth return with Will and Trev Walton doing the honours.
The Cumbrian Coast was a first for the Class, 50 years on and 1015 is still breaking new ground. For the first part of the return journey the passengers were requested to remain seated due to the limited clearance on this stretch of line and I think, after three hours in a Carlisle Hostelry, a few were glad to reach Maryport where the amenities were once more available! The Cumbrian Coast scenery can be both bleak an impressive in equal measure and the fading light only added to this. It was a disappointment to some that Barrow was avoided but this was a rare blemish on an excellent day.
After a crew change at Carnforth D1015 gave an excellent performance on its return back South via the West Coast Mainline, featuring particularly lively passages through both Lancaster and Wigan. An all round excellent day and here's to enjoying many more with Vintage Trains in the future.
The Maybach Meanderer (Pathfinder)

054

Saturday 14th December 2013
1Z52 07.01 Crewe - Quainton Road
Bescot - New Street - Cheltenham - Stroud - Swindon - Foxhall - Oxford - Claydon Junction - QUAINTON ROAD
1Z15 14.51 Quainton Road - Crewe
QUAINTON ROAD - Aylesbury - High Wycombe - Greenford - Acton - Wembley - Northampton - New Street - Bescot
Nothing too onerous for a pre Christmas outing to the wilds of the Cotswolds and the Chilterns with a short visit to the preservation centre at Quainton Road. 67024 provide the hors d'oeuvre but it was the main course, D1015, which was the real star of the day. Western Champion took over the train at Bescot and proceeded to pick up at New Street and Cheltenham before tackling the climb to Sapperton. The loco was more than equal to the task and the passengers were sitting back to enjoy the scenery and catch up with old acquaintances. The weather was kind, mild and bright, the threatened rain not catching up with the tour until early evening.
After a brief stop at Kemble the tour continued apace through Swindon and towards London before veering left at Foxhall Junction to take the line to Oxford. Once off the mainline progress was slow and eventually the tour reached Claydon L.N.E. Junction where the train reversed. The loco was now on the end next to the DTG coach and the Maybach Music therefore now got maximum appreciation. It was just a short hop to Quainton Road, which was reached around 25 minutes early, giving a good hour and a half to enjoy a break at the preservation centre.
Refreshed, the now 1Z15, restarted towards Aylesbury where the line to Princes Risborough was taken. The loco was now on old ground, 50 years previous D1015 would have been seen working the Pad-Birmingham expresses over this line. As the train approached London darkness fell and the train took the line from Greenford to Acton and then back around towards Wembley and Willesden. For many the best part of the day was the run back down the WCML towards Birmingham, albeit taking the Northampton route at Hanslope Junction.
The tour looked fairly modest on paper but proved to be an excellent day with D1015 breaking new ground in several areas.
The Chiltern Champion I & II (Vintage Trains)

055

Sunday 9th February 2014
1Z51 09.48 Solihull - Marylebone
SOLIHULL - Dorridge - Warwick Parkway - Leamington Spa - Banbury -
Princes Risborough - High Wycombe - MARYLEBONE
1Z52 12.40 Marylebone - Oxford
MARYLEBONE - High Wycombe - Prices Risborough -
Aylesbury - Claydon - OXFORD
1Z53 15.53 Oxford-Banbury
1Z54 16.48 Banbury - Marylebone
BANBURY - Princes Risborough - High Wycombe - MARYLEBONE
1Z55 19.02 Marylebone - Solihull
MARYLEBONE- High Wycombe - Princes Risborough - Banbury -
Leamington Spa - Warwick Parkway - Dorridge - SOLIHULL
The first D1015 tour of 2014 saw us once again trundling around the byways of the Chilterns, bookended by some fast running up to London in the morning and back again in the evening. Time keeping was excellent throughout the day and even the weather wasn't too bad for the time of year, a brief respite in the constant flow of Atlantic storms. The view from the carriage windows often looked like the train was picking its way between large inland seas.
The journey up to London was without incident, the train was lightly filled as the main tour of the day was out of Marylebone at 12.40, in contrast this was fully booked. The majority of the DTG regulars stayed on the train for both tours although some opted for a few hours in the hostelries of the Capital while they were replaced by a few who opted for the out and back to London only.
The trip to Oxford was a leisurely one, 3 hours for 73 miles, there was even time for a brief photostop at Islip. Once Oxford was reached there was a lull in proceedings while Vintage's Class 47 took the train from Oxford back to Banbury but normal service/superior traction resumed from there for the remainder of the day. To the best of our knowledge this was the first visit of a Class 52 to Marylebone and just to emphasise the point we did it twice. A break of nearly an hour gave those doing both tours an opportunity to grab a quick snack or a swift half then we were on our way again.
The return to Solihull was, for many, the highlight of the day with some fast running as D1015 hurried back North to end another successful day.
The Devonian (Vintage Trains)

056

Saturday 26th April 2014
1Z15 06:25 Tyseley Warwick Road - Kingswear
Snow Hill - Worcester - Bristol Temple Meads - Paignton - Kingswear
1Z52 17:00 Kingswear - Tyseley Warwick Road
Kingswear - Paignton - Bristol Temple Meads - Worcester - Snow Hill
The rain held off just long enough for the Tyseley passengers to board and on time D1015 pulled away for what would be a fairly leisurely day out to Kingswear with Vintage Trains via Snow Hill and Worcester. Once again, D1015 had 47 773 for company to provide heat, which was probably appreciated by most people that morning. For this trip, D1015 was sporting names / numbers of one of its long lost brethren, early withdrawal D1017 Western Warrior, as part of the DTG nameplate offer.
Following booked pick ups and a fairly lengthy timing wait at Abbotswood Jct, Bristol Temple Meads was made on time, which allowed travellers roughly 30 minutes for a leg stretch and photos. Here the early shift of DTG engineers who had been on shift since 04:00 preparing the loco, were relieved for a well earned rest, by the next shift of engineers.
A spirited run then followed, including a fast run through Taunton, however with the footbridge now gone, not so many people were there to photograph D1015 in full fling. Due to a couple of minutes early running, a subsequent signal check in Exeter St Davids delayed proceedings for a couple of minutes, before Champion headed off, for its first trip along the sea wall since all the damage earlier this year. The damage and outstanding repair work, was there for all to see, however with Langstone rock and a lot of the seawall being closed off to pedestrians, photo opportunities would have been limited. Diverging at Aller Junction, Champion rolled into Paignton on time, where after a bit of a wait, it gave way to GWR tank engine 4277 "Hercules" for the run over the Paignton Railway to Kingswear.
A break of a couple of hours and the rain just about held off, for people to get over to Dartmouth and back, before we were off back to towards Paignton on a different GWR tank engine, 5239 "Goliath". D1015 then backed onto the train just outside Paignton station for the journey home. By the time we were going back along the seawall, the weather had turned for the worse, only the hardy were out to see us go past.
Following that, Champion retraced its steps back to Tyseley via the outward route, including a brief stop at Bristol. With an on time arrival back in the West Midlands and no issues reported from the engineering team, another successful mainline tour under Champion's belt. Many thanks to those of you who travelled and supported us on the day.
The Western Lickey's the Banks (Vintage)

057

Saturday 10th May 2014
1Z52 06.55 Solihull - Plymouth
SOLIHULL - Dorridge - Warwick Parkway - Banbury - Foxhall Junction -
Bath Spa - Bristol Temple Meads - Exeter St Davids - PLYMOUTH
1Z53 14.25 Plymouth - Tyseley Warwick Road
PLYMOUTH - Bristol Temple Meads - Cheltenham Spa - Worcester Shrub Hill -
Bromsgrove - Birmingham New Street - TYSELEY WARWICK ROAD
This was Champion's second trip back to it's old hunting ground, the southwest, in two weeks. This time, Champion was involved in Vintage Train's special charter to re-enact 7029 Clun Castle's record breaking Plymouth - Bristol run of 9 May 1964 (1Z48). D1015 would take the tour to Plymouth, where the stock was split and D1015 returned to the West Midlands with just four coaches, with the Western Lickeys the Banks tour, while 5043 Earl of Mount Edgcumbe would return with the rest of the stock re-enacting that special run.
Champion rolled into Solihull in the morning drizzle, to take everybody down to Plymouth, via pickups at Banbury, Oxford and Bristol Temple Meads. After leaving Exeter, once again D1015 was going along the sea wall, (in sunshine this time) and over the Devon banks with ten coaches. Before long we were arriving into Plymouth for a break of just under two hours.
At 14:30, with Earl of Mount Edgcumbe next to us in the centre road we departed Plymouth on what would be most peoples highlight of the day, a trip over the Devon banks and a run up to Birmingham via the Lickey bank with D1015 and just four coaches. Over the top of Hemedon and it seems we were already being checked, maybe we were catching up the Cross Country Voyager, that had departed Plymouth just a few minutes before us? As expected, we had a spirited run over the banks, back along the sea wall and through Exeter St Davids. Pathing stops at Temple Meads and Parkway, slowed Champion up a bit, but then it was off on the final leg back to New Street. Routed via Worcester, then back to Stoke Works Junction and a fine run up the Lickey into Birmingham New Street.
The return to Tyseley was delayed slightly getting into the Steam Trust at Small Heath, however just after 20:00, Champion came to a stop. After a fantastic day out from the West Midlands to Plymouth and back, returning in the daylight at a social hour as well. Many thanks again to those who travelled with us on this day, and your continued support for this fine Western region loco.
The Mazey Day Cornishman (Pathfinder Tours)

058

Saturday 28th June 2014
1Z07 05:00 Tame Bridge Parkway - Penzance
Soho South Jct - Worcester - Bristol Temple Meads - Plymouth
1Z08 16:11 Penzance - Tame Bridge Parkway
Plymouth - Bristol Temple Meads - Worcester - Birmingham New Street
An on time early departure at 5.am from Tame Bridge Parkway on Pathfinders The Mazey Day Cornishman to Penzance, for the Mazey day celebrations, set the theme for a day of plenty of good running and good time keeping. Today Champion would also carry the number and nameplates of D1040 Western Queen, as part of the DTG name plate offer.
Today's tour was routed via a Rowley Regis pickup, then onto Kidderminster and down via Worcester and Cheltenham. Following departure from Kidderminster the sun broke through and by the time we arrived in Worcester it was looking to be a good day weather wise. Following an on time departure from Bristol Temple Meads a good run down to Exeter followed, although we were looped into the platform at Taunton, although did not stop. Following a quick check at Exeter D1015 then made its way along the sea wall for the third time this year. The sea wall is progressing well with its repair work and the path to Langstone Rock is now open. It was then up and over the Devon banks which 1015 took in its stride.
A brief photo stop at Plymouth, then D1015 was into Cornwall for the first time almost to the day in 4 years. Following a set down at St Erth, it was then an on time arrival in to Penzance giving everybody just over four hours to spend as they wished either at the Mazey day celebrations or possibly doubling back to the quieter St Ives. The departure back left on time, with a very spirited run back to Plymouth. There was hope to get away early, however our relief engineers were on a southbound Cross Country HST that had been delayed by 90 minutes. Luckily the train arrived not long after we did and we departed Plymouth on time. It was then a superb run back over the Devon banks and along the sea wall, approaching Exeter, we were given a green, which allowed 1015 to accelerate through St David's station.
We then retraced our steps back to the West Midlands, with the run up through Old Hill tunnel a sound that will remain in people's memory for a long time. The evening return was booked via New Street, however for the travellers going back to Tame Bridge Parkway there was a delay due to a broken down train at Tame Bridge. After a few minutes 1015 got the road and was off into the tunnels of New Street and off to Tame Bridge being diverted via Sutton Park. Arriving at Tame Bridge from the north about 30 mins late, after dropping everybody off, it was back to New Street again via Aston and back to Tame Bridge from the South via Soho Junction (the unit had been moved by now), to allow Champion back into Bescot yard nearly 20 hours after it had left in the morning.
A huge thank you to the engineers for the incredibly early start and late finish, without whom this trip would not have been possible and to Pathfinders for supporting the loco. Finally thanks to all of those who supported us by travelling on this great day, taking a Thousand back to where it belongs.
GBRf staff tour to Minehead

059

Saturday 6th September 2014
07.28 Chester - Minehead
(Started at Crewe)- Stafford - Birmingham New Street- Proof House Jct - Bristol Temple Meads

17:10 Minehead to Chester
Bristol Temple Meads - Proof House Jct - Birmingham New Street - Stafford - Crewe - CHESTER

The day trip for the GBRF staff to Minehead got off to an auspicious start with the D1015 and its stock being blocked in at Crewe yard by a competitors train (the green coloured ones). The decision was taken to start the tour at Crewe rather than at Chester. This meant that everybody that was travelling from Chester had to board service trains to Crewe.
Once D1015 had been freed it arrived into Crewe station and we departed south via pickups in the West Midlands 69 minutes late. Fantastic running and good pathing meant that we were only 3 late by Taunton and on time at Bishops Lydeard. After a leisurely run along the West Somerset line we arrived at Minehead about 20 minutes late, allowing everybody plenty of time to explore the seaside town in great September sunshine.
An on time departure from Minehead saw us running back more or less on time or early all the way back to Chester. This included a spirited run up the Licky, following being checked at the bottom, 1015 managed to get the 12 coaches over the top in fine style, that was probably heard for miles around on the lovely still September evening.
An on time arrival back at Chester brought the day to a very successful end and hopefully all of the GBRf staff enjoyed their day out. The only downside, was the discovery of the leaking cylinder head, that unfortunately lead to 1015 not being able to fulfil it's next tour that was planned for September 20th.
The Canterbury Champion (Pathfinder Tours)

060

Saturday 13th December 2014
1Z23 06:30 Tame Bridge Parkway - Canterbury West
Solihul - High Wycombe - Kensington - Tonbridge
1Z25 15:53 Canterbury West - Tame Bridge Parkway
Minster - Dover - Maidstone East - Kensington - Reading - Solihul
This was D1015's 60th railtour back on the mainline, and was to be a day from the West Midlands to Canterbury, to allow passengers a few hours in the Kent town, with all it's Christmas markets and other shops and hostelries. Today, D1015 was sporting D1041 Western Prince plates on one side, as well as full yellow ends, to go with its present maroon colours. Unfortunately the tour was 30 minutes late starting, due to the late arrival of the stock, however time was being made up steadily until we arrived in Leamington Spa. That was where it was discovered, that one of the first class coaches in the middle of the train, had had some sort of brake problem on the way down and at least one of its tyres had shifted. With us stuck in the south bound platform, other delayed services were now being routed through the centre roads at Leamington and not stopping.
The decision was made, to remove the coach, and with 1015 running round, the stock was split and the defective coach was shunted into a bay on the far side. With the weather clear (but cold) ample photographs were possible of 1015 shunting the stock around, it could almost have been Plymouth back in the 70s, with the various portions being shunted and attached / detached.
Nearly three hours late, 1015 finally departed Leamington and headed for Kent. We were routed via the Chilterns and then down to Ealing Broadway for the final pickup and then via Mitre Bridge and Kensington towards south east London and new ground for a Thousand. Good running through Tonbridge and Ashford meant we arrived in Canterbury just under two and half hours late. On the journey down it had been announced, that the tour would depart an hour later than planned, therefore still giving people two hours to enjoy Canterbury.
The return journey carried on with 1015 breaking new ground for a Thousand, as we continued on from Canterbury to Minster, then turned right down through Dover, back to Ashford and returned to southeast London, this time via Maidstone. As time past, it was clear that Champion was going to pretty much make up the time on the hour late departure from Canterbury, indeed by Didcot (having been routed home via Reading), we were running early, by Banbury a full 15 minutes early. Finally arriving back to the West Midlands more or less on time.
Thanks to all who travelled with us, a great day out had been had behind Champion, following a very inauspicious start, which hopefully did not ruin people's day. A huge thanks must go to the engineering support, of Steve Wainwright, Chris Hatton, Dave Mogg and Al Kennett for making the day possible possible. Not only was it a very long day for them, but also the work involved in prepping and moving the engine to and from Bescot on the days before and after the tour.
Champion is now safely back at Washwood Heath where work will now commence into trying to identify and rectify the cause of the leaking cylinder head on one of its engines.
Below, by kind permission of Rob Fraser, are timeings he made during the day, those of you who know Rob, will know his love for piffle, however as can been seen, an excellent record of the days action. Many thanks Rob.
Thank you for travelling with us this year, and we hope to be back on the mainline soon.
DTG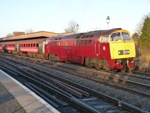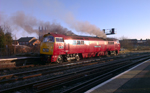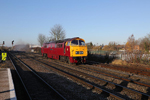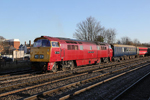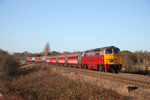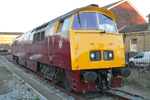 Rob's
timeings
.
DIESEL TRACTION GROUP © All rights reserved